about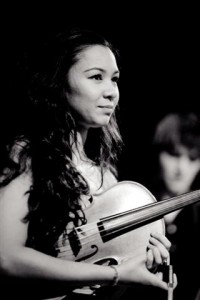 In her youth, INTAN WERRY performed worldwide with various youth orchestras and ensembles. She was interessted in world music and chose the study violin Argentinian Tango at Codarts Conservatory, Rotterdam World Music Academy. She graduated in 2013.
After graduating she enjoyed playing and going on tour with several bands and projects of different styles and genres. She could also see her passion for education. You could find her teaching violin privately or in music schools. One of her favorits jobs was being a music teacher in primary schools from the project 'Ieder kind een instrument' SKVR with big string classes. Her focus now is more on Tango String Quartet coaching which she really Loves. In recent times she has developed as a Singer- Songwriter and has founded her trio Toko2Go and duo Fortune Strings together with her partner Boris Oud.

Fortune Strings
Fortune Strings duo is formed by Intan Werry on violin and Boris Oud
on double bass / guitar in 2018. Both musicians graduated from the Rotterdam Codarts Conservatory.
They can be booked for company-related assignments or at private parties.
Weddings are their specialty, they could be the framework of your special day! With a tender Classical piece, touching Love songs, melancholic Folk tune or they can bring you some joyfull Jazzy vibes. How to book Fortune Strings? Go to: www.ShowBird.com or sent an E-mail to: intanwerry@gmail.com
ShowBird reviews 
Zeer Enthousiast!  ****
Ik was hier zelf niet bij aanwezig maar via mijn collega gehoord en deze was zeer enthousiast. Ze waren erg professioneel en hadden zich goed ingelezen in de locatie en gelegenheid.
Stijlvol *****
Het was prachtig! Ze speelde goed in op de ceremonie. Vooraf goed contact met elkaar gehad!
Toko2Go
Duo Toko2Go with Patrick Sondak on Guitar/vocals and Intan Werry on violin/vocals has outgrown it's duo formation and has gain the multi-instrumentalist Boris Oud on double bass/vocals and more. Toko2Go offers a wide range of own recipes including their Singer- Songwriter songs but also covers of various pop and folk styles. They let your "ear pupils" seduce with worldwide sounds of Jazz, Pop, Country, Fiddler, Klezmer, Tango and more …
Toko2Go is open for "Specials" such as; party or theme requests!